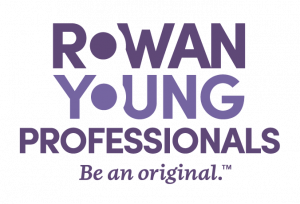 MISSION: Consistent with the established mission and bylaws of the Rowan County Chamber of Commerce, the Rowan County Young Professionals (RCYP) shall:
Connect young professionals with people and information they need to thrive in Rowan County.

Engage and support young and emerging professionals by providing a forum for young professionals to connect and invest in Rowan County through community-based programming.

Seek to actively and effectively build Rowan County's next generation of leaders.
Mollie Ruf, Chair
Mollie has chaired the Rowan Young Professionals since 2019 and received the inaugural Young Professional of the Year award in 2023. In her role at Rowan EDC as the Marketing & Communications Manager, she excels in driving employment and relocation efforts in the community. Her board positions with the Rowan Chamber and the Terrie Hess Child Advocacy Center further underscore her commitment to the area. A native of Kansas City, Missouri, Mollie made North Carolina her home post-graduation from Florida Southern College in 2009.
Karla Foster Leonard, Vice Chair
Karla is the owner of New Point Realty and a pivotal community figure in Rowan County. Her civic engagement spans from PTA involvement at Granite Quarry Elementary to chairing the Rowan Chamber's Government Affairs Committee and serving on the Rowan County Planning Board. A North Rowan High School alumna and Appalachian State University graduate with a degree in Criminal Justice, Karla's dedication to her community shines through in her professional pursuits and volunteer efforts.
Nicky Black, Chair-Elect
Nicky Black is a true Rowan County original. Born and raised in Salisbury, she graduated from the Ketner School of Business at Catawba College in 2013. As the Director of Account Services at Miller Davis, Nicky has made her mark in the marketing world, providing exceptional guidance and support to her clients. Her entrepreneurial spirit shines as the founder of Row Co River Adventures, where she combines her love for the outdoors with a thriving kayaking rental and guide service. Nicky's dedication to her hometown is evident in her active support of local community organizations. She is on the board of directors for Yadkin Riverkeeper and Happy Roots, and serves as a volunteer for Creek Week, Lee Street Theatre, among many others. Her energy and commitment make her a valued pillar in the Rowan County community.
Kyler Eagle, Programming & Events Chair
Kyler is a dedicated citizen of the Rockwell community who is active with the local Civitan club and serves on the Town's Planning and Revitalization boards. Professionally he is an integral part of the Powles Staton Funeral Home team where he uses his compassion, honor, and dignity for others to assist families on a daily basis. As a Rockwell native, Kyler is a proud alumnus of East Rowan High School, Rowan Cabarrus Community College and Cincinnati College of Mortuary Science. Beyond his professional and civic endeavors, he enjoys team sports and channels his competitive spirit while as coach of the Rowan County Young Professionals Kickball Team, showcasing his leadership and enthusiasm.
Sherri Hill, Outreach & Recruitment Co-Chair
Sherri Hill's commitment to fostering strong community ties is reflected in both her academic pursuits and her professional role. With a Masters of Science in Marriage and Family Therapy from Capella University and a foundational degree from Catawba College, she returned to Salisbury to contribute her expertise to the Department of Public Safety Juvenile Justice as an Area Consultant. A graduate of North Rowan High School, Sherri's involvement with the Rowan Young Professionals has been a gateway to re-establishing local connections, making new friends, and revisiting the community's offerings. Her affiliation with Zeta Phi Beta Sorority, Inc., underscores her dedication to service, scholarship, and sisterhood, influencing her approach to community engagement and professional development.
Michelle Gannon, Outreach & Recruitment Co-Chair
Michelle has made her mark in Downtown Salisbury as the vibrant owner of Ruthie Darling Boutique, a testament to her entrepreneurial spirit and eye for style. Hailing from New York, Michelle first fell in love with Rowan County during her time at Catawba College and, after years away, she followed her dream back to Salisbury, transforming her successful online venture into a brick-and-mortar destination. Her passion extends beyond fashion; it's about empowering women to embrace their personal style with confidence. Outside of the boutique, Michelle is deeply involved in her children's educational and sporting activities, demonstrating her dedication to family and community in every facet of her life.
Dillon Brewer, Development Chair
Dillon is a distinguished member of the Rockwell community, both as a dedicated Town Alderman and as a vital contributor to the town's renaissance. His leadership roles in Cheer City Riot and as the Director of Tailgating for The Roaring Riot exemplify his ability to galvanize community enthusiasm and pride. In his professional life, Dillon stands out at Cloninger Toyota, where he ranks in the top 600 of 11,000 salespeople nationwide. His involvement with Civitan and Salisbury Rotary, coupled with his commitment to organizing local events and festivals, underscores his passion for community service and development. Dillon's drive and dedication not only reflect his professional excellence but also his profound commitment to enriching his hometown of Rockwell.
Vincia Miller, At-Large Member
Vincia, a proud alumna of Livingstone College, is well-regarded for her role as the former Director of Alumni Affairs, where she fine-tuned her exemplary event planning skills. These skills now enhance her own venture, Madison Nicole Co. where she crafts exquisite and impeccably organized events. In her primary role as the Philanthropy Coordinator for the Novant Health Foundation, she channels her expertise into philanthropy, orchestrating initiatives that bolster community support and engagement. Beyond her professional pursuits, Vincia is an active member of Zeta Phi Beta Sorority, Inc. and serves on the following boards: Terrie Hess Child Advocacy Center, Communities in Schools of Rowan County, American Association of University Women, Families First-NC, Rock Hill CDC and Downtown Salisbury Inc. demonstrating her unwavering commitment to community service and enrichment.
Sarah Devlin, At-Large Member
Sarah stands as a paragon of community engagement as the Chief Officer of Governance, Advancement & Community Relations at Rowan-Cabar¬¬¬rus Community College. Her educational background is just as impressive, with a Bachelor of Science degree in Biology from Catawba College and a Masters of Public Administration from the University of North Carolina at Pembroke. Sarah's commitment to service is reflected in her active participation on numerous boards and community organizations including the Catawba College Board of Visitors, the Rowan Education Collaborative, the Rowan Communicators Group and the North Carolina Community College System Statewide Strategic Enrollment Management Committee where her insights and expertise contribute significantly to their growth and highlight her dedication to fostering educational excellence and advancing community welfare.