Welcome to the Rowan County Chamber of Commerce!
The Rowan County Chamber of Commerce is a membership organization that serves and advances the business interests of our community and builds a sustainable community where business thrives.
Power in Partnership Breakfast Series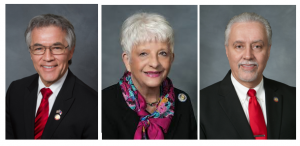 The Rowan Chamber will hold its annual State Legislative Breakfast in conjunction with the Power in Partnership (PIP) breakfast on Thurs., February 20, 7:30 a.m. at Trinity Oaks (728 Klumac Road).
State Legislators for Rowan County include:
Rep. Harry Warren
Rep. Julia Howard
Sen. Carl Ford
The Chamber will present its Priority Project list for the 2020 State Legislative Session and then hear from each elected official on how best they will be able to help us achieve our community's goals.
SPONSORED BY:

Register HERE