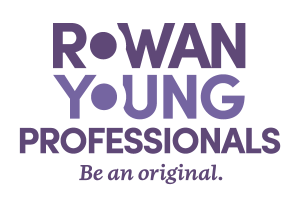 Networking • Make New Friends • Philanthropic Opportunities • Professional Development
Are you a business professional in Rowan County, NC under the age of 40?
Meet fellow young professionals in our area by attending our networking opportunities (virtual & in person), and discover ways to get more involved in the Rowan County community. Meetings are typically held September through May. Exact days/times may vary (see below for details). Some events may be held virtually in 2020 for health and safety reasons related to COVID-19. During in person events, attendees will be kindly asked to wear a face mask and socially distance.
Events are mostly free to attend and you do not have to be a Rowan Chamber of Commerce member to participate. Some events may have a small fee for participation.
Keep in touch with us by following our Facebook and Instagram.

Virtual Meet & Greet
Thursday, October 29 at 4 p.m.
Join us for a virtual meet & greet of our Rowan Young Professionals group - a program of the Rowan Chamber of Commerce. It will be a great opportunity for each person to introduce themselves and talk about their business. Then we'll play some fun Halloween themed trivia.
This meetup will be held virtually on Zoom.
https://rowancountync.zoom.us/j/95853566473?pwd=N0ovSGx2bTZJMXZEbnBuVjI4ZFgvUT09
Yoga Class at Heart of Salisbury
Thursday, November 5, 2020
Been spending too much time on the couch? This is the perfect opportunity to get active and meet fellow young professionals in our area. Meet us at Heart of Salisbury for an 1-hour yoga class.
For Young Professional members this class will cost only $5/person (normally $10) and is being sponsored by Healthy Rowan.
Please arrive by 5:45 p.m. and the class will start promptly at 6 p.m. Pay when you arrive. If you want to arrive early to check out the shop or view the art exhibit you can get there as early as 5 p.m.
Due to COVID19 precautions, all Heart of Salisbury visitors must wear masks.